May 2017
BLOOMBERG - Foreign Investors Give Turkey Another Look Amid Private-Equity Rebound
EY sees buyout deals jumping 50% to $500 million in 2017
TPG says it is considering Turkey purchases after 2011 exit
Private-equity investments in Turkey are set to increase more than 50 percent this year from a six-year low in 2016 with TPG Capital LP considering acquisitions and Cinven Ltd. predicting renewed interest from foreigners.
While local firms will still dominate the market, international companies scared off by unrest are reconsidering their absence following a referendum last month that cemented power under President Recep Tayyip Erdogan. Abraaj Group Ltd. is among those interested, and the Dubai-based company has said it is considering investing in healthcare and fast moving consumer goods.
"There will once again be strong international private-equity interest in Turkey," said Yalin Karadogan, a partner at London-based Cinven, which has no plans to exit the majority stake it bought in a Turkish alarm-systems maker in 2012. Foreign interest will accelerate once the state of emergency is lifted, the lira stabilizes, and consumer confidence improves, he said.
Ramp Up
Large, global private-equity firms are reevaluating Turkey as the government ramps up spending to rejuvenate an economy expanding at its slowest pace since 2009. Foreign investors were deterred by a series of terror attacks over the past two years that killed hundreds of civilians, frightened off tourists and fueled an almost 30 percent depreciation in the lira against the dollar.
The value of transactions could increase to $500 million this year from $331 million in 2016, the bulk of which will be driven by local investors, according to Demet Ozdemir, a strategic emerging-markets leader for Europe, Middle East, India and Africa at consulting firm, EY.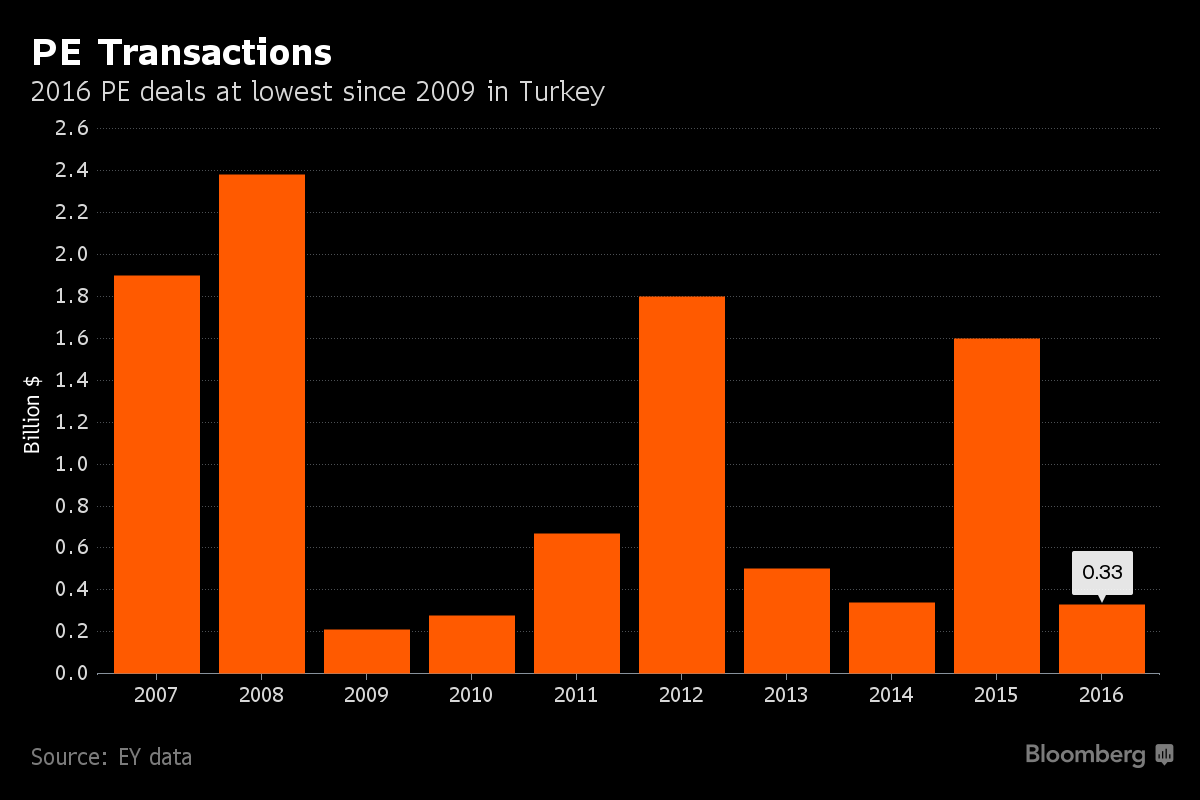 KKR & Co. has long exited Turkey, while Carlyle Group LP, which only has one investment left in the country, closed its office in Istanbul.
Still, companies are sitting on money that needs to be invested in the country and more may be coming. Last year, investors including Abraaj and Istanbul-based Mediterra Capital Management Ltd. raised more than $820 million for funds dedicated to Turkey, the most since 2012, when they amassed $2 billion, according to Washington-based EMPEA, a global association of emerging-market private-capital funds. Abraaj declined to comment.
Turkven Private Equity, an Istanbul-based firm with about $2 billion under management, aims to attract $1 billion of new investment into Turkey by the end of next year, founder and Chief Executive Officer Seymur Tari said last month.
"Now that the election period is over, those investors with a wait-and-see attitude should come back to market with an appetite as things are being normalized," said Mediterra Managing Partner and co-founder Ahmet Faralyali. "We want to invest in companies that plan to grow abroad through exporting of goods or acquisitions. Assets that are not controlled by vague regulations are attractive," he said. Turkey's financial, energy and telecommunications industries are regulated.
'Keeping an Eye'
Deals are already happening, albeit on a small scale. Firms such as Bridgepoint Advisers Lt. and the private-equity arms of Goldman Sachs Group Inc. and Credit Suisse Group AG have limited their recent purchases to mid-cap Turkish assets, such as the $150 million investment with the European Bank for Reconstruction & Development in the company which controls a Burger King franchise.
TPG Capital is "keeping an eye on any opportunities in Turkey," said Cuneyd Zapsu, a senior country adviser for the Fort Worth, Texas-based asset manager. The company, which oversees more than $74 billion, in 2011 sold its only investment in the country with the sale of spirits producer Mey Icki Sanayi ve Ticaret AS to Diageo Plc for 1.3 billion pounds ($1.7 billion).
International firms making a comeback will have to contend with returns that have lagged their past performance. According to data from EY, internal rates of return, a gauge to measure the profitability of investments, slipped to as low as 15 percent in 2016, from about 25 percent five years ago, Ozdemir said.
"We don't have the returns that we had five years ago, largely because of foreign-exchange volatility," Baris Oney, founder of buyout adviser GlobalTurk Capital and the country representative for EMPEA, said in an interview. But with almost $1 billion in committed funds already raised for the country, "there's still appetite to invest here."
Source: Bloomberg.com